Lewis Robert "Lew" Ranger
4-9-1924 to 9-5-2009.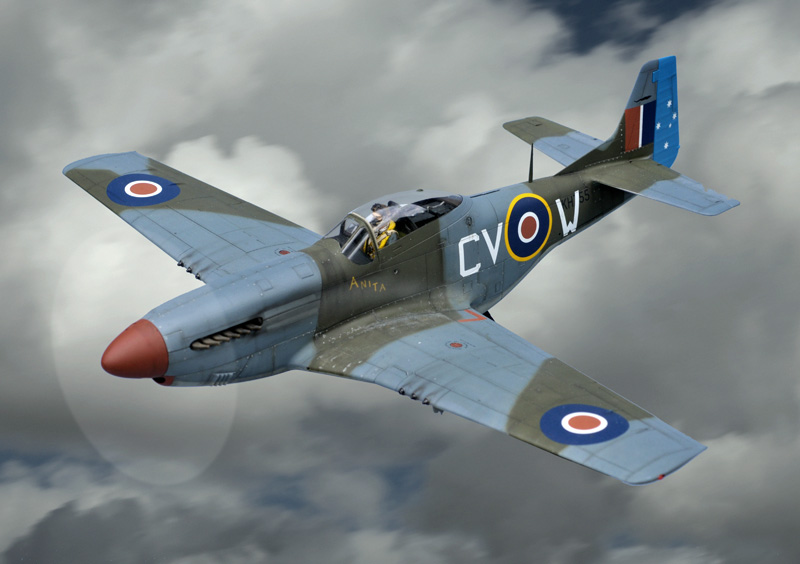 A Model of Lew's Mustang CV-W "Anita"
- By Arthur Pardey.
While enroute to the Middle East on the troopship `Alcantara' in October 1944, I met up with `Lew' - as he was universally known. My attention was drawn to him, as he was a damn good-looking young pilot and was very popular with the contingent of service girls on the ship.

Our paths separated in Egypt, until we met again at Cervia in Northern Italy. Lew had reached 3 Squadron RAAF shortly before me. 'Three' was part of 239 Wing supporting the New Zealand 2nd Division which was part of Alexander's 8th Army.

Lew was a good pilot involved in ground-support work, having flown 57 sorties covering 94 operational hours, when war on the Italian front ceased on May 8th 1945.

The early loss of his father was a dominant factor in Lew's life. He was a born salesman, no doubt developed from his juvenile days of selling watermelons and kindling wood to assist in supporting his family.

Like all of us, Lew was a complex character. He was strong-willed, forthright, fearless and "as straight as a gunbarrel". Let's say that he was positive and assertive in all his activities, especially in respect to 3 Squadron RAAF Association. In the Association's early years in Victoria, and with total support at Reunions, ANZAC Day marches and pilgrimages to Richmond, I cannot recall anyone, other than Lew, reciting 'The Ode' on these occasions.

Lew was a 'singles' man. He was a self-made person, a true believer in all things Liberal and abhorred pressure groups such as Unions. He established and developed an importing business largely based on his selling acumen.

Always loyal to those about him, he was firm in his convictions as exemplified in his friendship with Meg and Fred McKay and his interest in the development of St Phillips College in Alice Springs.

His ability to get on with other people resulted in him becoming President of Asquith Golf Club during which time a new Clubhouse was built.

Lew was a compassionate man. At an early age he became a junior legatee and subsequently joined the Masonic Lodge, and Legacy in 1971. He was well known by virtue of his regular visits to war widows in the Hornsby District and he lived by the precept of being the best and doing his best at all times - of sharing joys and pleasures with his friends and making Vera, Anita, Sue and his Grandchildren his first priority.

Farewell cobber - 'You're up there with the best of them'.

Lew (kneeling) travelling in Italy at the end of the war (Alan Clark Collection)